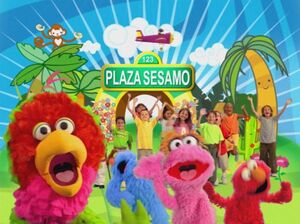 Picture
Segment
Description

SCENE
Pablo and Daniela try to fly their kite, but there's not enough wind. They find a sick Pancho, who proved a large hand on a sick as a fan. He uses it to cover Elefancio's trunk when sneezing.

Cartoon
I for Iguana
(EKA: Episodio 867)

Muppets
An Anything Muppet band performs "Guess What."
(EKA: Episodio 737)
Taken from Sesame Park

Cartoon
A man discuses the letter I.

Film
A farm boy named Nicholas talks about his day, which includes school and a check-up.

Cartoon
Kids go sledding with a snowman.
(EKA: Episodio 826)

Film
A song about an aquarium.
(EKA: Episodio 741)

Cartoon
Two cartoon cacti sing "Here We Are."
(EKA: Episodio 751)

Film
Kids talk about what they want to be when they grow up.

Muppets
Grover goes to the doctor for a check-up, and describes to the viewer what the doctor is doing. Grover gets scared when it's time for a booster shot, but is so scared that he doesn't notice when he gets it.
(EKA: Episodio 843)

Film
Kid mural painting #15

Muppets
Abelardo, Lola and some kids find seeds decide to wash them and plant them. They then sing "Reforastación."
(EKA: Episodio 749)

Animation
Kids, in voice-over, name the right pieces of clothing a doctor needs.

Film
Two girls wander the desert.
(EKA: Episodio 823)

Animation
The number 15 is written.

SCENE
Maria tends to the sick Pancho and Elefancio.

Insert
Aleks Syntek teaches Abelardo, Lola and Pancho to cover their mouths (and beaks) when couching or sneezing.