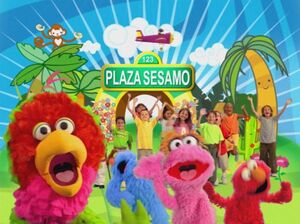 Picture
Segment
Description

SCENE
Lola, Manuel and Daniela make shadow puppets.

Cartoon
Abstract count to 15
(EKA: Episodio 865)

Animation
Letter Garden: O/o
(EKA: Episodio 860)

Film
In a dreamlike sequence, a family discovers a huge letter O.

Muppets
Ernie sings "Dance Myself to Sleep."

Cartoon
A cat learns not to be scared of its shadow.




Video
Gymnasts form an O, for Olga.
(EKA: Episodio 809)

Cartoon
Noodles and Nedd play shadow games indoors with a flashlight, and outdoors.

Film
Ballerinas make Os.

Muppets
Elmo explains the importance of sleep, but the audience won't stop applauding and let him sleep afterwards.
(EKA: Episodio 733)

Cartoon
A girl thinks she hears a monster doing a cha-cha outside her window, but it's only the wind and crickets. Her snores frighten the real monster.

Film
A group of kids visit a TV studio and learn how a news broadcast is filmed.

Animation
Fans reveal the letter O.
(EKA: Episodio 862)

Muppets
Ernie notices that none of the lampposts are on, and the lights won't turn on. Bert says that there is a blackout, but has to repeat himself when Ernie suggests they watch TV, play a record and listen to the radio. Ernie decides to call someone to see if anybody else knows about it. He calls someone, who grouchily asks who's calling and threatens to "see to it that you don't sleep for a week." Ernie says "It's Bert," and hangs up.

Film
Growing Numbers #15
(EKA: Episodio 746)

SCENE
Lola helps Pablo assemble a bed.