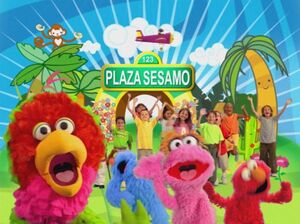 Picture
Segment
Description

SCENE
Lola, Abelardo, Daniela and Manuel run into an archeologist, digging in the center of the plaza. He uncovers his missing teddy bear.

Video
Gymnasts form a G, for Gloria.
(EKA: Episodio 804)

Film
Kids talk about what they want to be when they grow up.
(EKA: Episodio 731)

Muppets
The Number of the Day: 9
9 nifty bats, dressed to the nines, fly in after 9 is announced to be the number of the day, and The Count counts them.
(First: Episodio 862)

Film

A boy and his mother play the Taiko drum together.
(EKA: Episodio 757)

Animation
Kids name the right pieces of clothing a construction worker needs.
(EKA: Episodio 863)

Muppets
News Flash: Kermit is at the first day of school for monsters, where the monster teacher and his monster students sing a song about how different they look. At the end of the song, the monster teacher let his students play and Kermit joins them in a game of tag.
(EKA: Episodio 865)

Animation
Planet G / g
(EKA: Episodio 880)

Film
Kids talks about their school.
(EKA: Episodio 814)

Cartoon
Madlenka imagines the different ways she could get to school.

Film
Five girls play a clapping game.
(EKA: Episodio 835)

Cast / Muppets
Carmen, Abelardo, Lola, Pancho and some kids sing "Leer y Escribir".
(EKA: Episodio 814)

Cartoon
Suzie Kabloozie introduces an alphabet segment while she chases after Feff.
(EKA: Episodio 864)

Muppets
Super Grover teaches a class for potential superheroes. Among his students are Telly, Elmo, Zoe, Rosita, Herry, and Merry.

Film
A girl recycles bottles for a hand-made yo-yo.

Cartoon
People paint a mural of a field landscape.
(EKA: Episodio 863)

SCENE
Lola, Abelardo and friends play school.