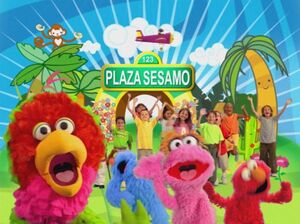 Picture
Segment
Description

SCENE
Susana takes Abelardo to the doctor's office.

Animation
Arrows give a presentation of the human body.
(EKA: Episodio 744)

Muppets
The Number of the Day:


The Count and The Countess: 13

Video
Gymnasts form a B, for Bertha.
(EKA: Episodio 822)

Muppets
Chispas de Informacion
Modesto Microfono interviews a girl who brushes her hair.

Cartoon
A B becomes the fins of a "ballena" (whale).
(EKA: Episodio 871)

Film
Human and animal babies learn to walk.
(EKA: Episodio 849)

Cartoon
A cat cleans up some "basura" (trash).
Artist: Oscar González Loyo
(EKA: Episodio 738)

Muppets
Ernie and Bert: Ernie answers the telephone. Bert overhears the conversation, which involves a baseball game, a rainy day, and a gorilla stealing a baloney sandwich. When Bert asks who just called, Ernie says it was a wrong number.
(EKA: Episodio 733)

Cartoon
A lowercase B looks in the mirror and sees a lowercase D.

Film
A girl and his father spruce up an old bus.

Cartoon
A cartoon mouse riding an armadillo sings a song about 13, his lucky number.
(EKA: Episodio 813)

Muppets
Monsterpiece Theater: Twin Beaks

Cartoon
13 Turkeys (to the tune of "Turkey in the Straw")

SCENE
Pancho, Lola and friends want to help Maria cook, but they must wash their hands first.