Episodio 873
Talk

0
26,846pages on
this wiki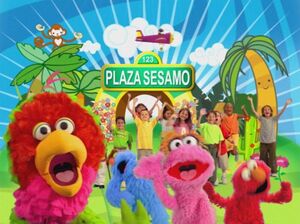 Picture
Segment
Description

SCENE

Pancho tries to teach Abelardo, Lola, Manuel and Daniela something while waiting at the crosswalk.

Animation

A stop-light robot follows his own signals.

Song

"I'm Holding Your Hand" (while crossing the street)

Cartoon

S for Sol (sun)
(EKA: Episodio 813)

Muppets

"Home to Me"

Animation

Airplanes carve the capital and lowercase S.

Song

"The Pasta Song"
(EKA: Episodio 778)

Film

Kid mural painting #14

Muppets

The City Mouse and the Country Mouse (Part 1 of 2)
The Country Mouse lives peacefully on the farm when his cousin, the City Mouse, comes to visit. The City Mouse is appalled that his cousin lives in a haystack, eats acorns, and listens to birdsong. He invites his cousin to come visit him in the city.

Cartoon

A "sapo" (toad) hops from rock to rock, then falls in the water.
Artist: Oscar González Loyo




Muppets

The City Mouse and the Country Mouse (Part 2 of 2)
The Country Mouse visits the City Mouse's apartment, and finds that his cousin eats pizza, doesn't mind traffic sounds, and listens to groovy music on his stereo. The Country Mouse is startled when he hears a cat. The City Mouse sighs, "Oh, that's just the cat. That means he's hungry, and he wants to catch us and eat us for dinner." Horrified, the Country Mouse goes back to the country, where he's safe. The City Mouse offers the cat a bite of pizza.

Cartoon

A police officer puts various people in their right buildings in a mixed up town.

SCENE

Pancho orders a sweet smoothie at the restaurant, but the waiter brings him three dishes of food he didn't ask for. When the waiter finally gets his order right, Pancho has combined the food for his meal, so the waiter drinks the smoothie.