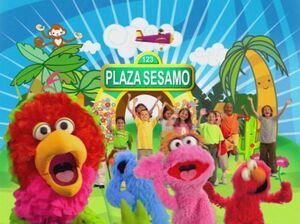 Picture
Segment
Description

SCENE

Barón Púrpura needs an alternate mean of transportation.

Cartoon

A girl describes the things she does with her best friend (her grandmother).

Film

Scenes of a girl and her grandfather are shown via photos in an album.

Cartoon

A girl's extended family gets their photos taken.

Film

A large family assembles for a group photo.

Muppets

Telly tries practicing "The Blue Danube" on his tuba, but is disrupted by Elmo, who's practicing his drum. After their problem gets out of hand, they get an idea to cooperate.
(EKA: Episodio 861)

Film / Animation

Lake (time-lapse)
(EKA: Episodio 815)

Cartoon

It takes two kids two blow up a number 2.

Muppets

Herry Monster and a girl sing a "Song for Two."
(EKA: Episodio 743)

Cartoon

Animal Rock #2




Muppets

Pancho presents the letter C, for Cebra.
(EKA: Episodio 803)

Song

A song about mothers and their children.

Muppets

The Number of the Day
Two tubas in tutus, tap dancing, show up after The Count learns that the number of the day is 2
(First: Episodio 864)

Cartoon

A man talks about the letter C.

SCENE

A baby monster shares his crayon and drawing with La Abuela...by splitting them in half.