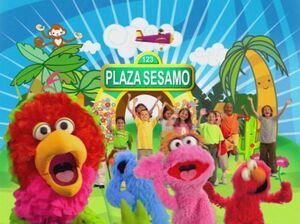 Picture
Segment
Description

SCENE

Lola and Daniela try to think of a game they and Manuel and a baby monster can play together.

Animation

Fans reveal the letter O.

Film

Three cowpoke children ride their sticks along the dusty trial and find a toy workshop. The owner invites them in and spruces up their sticks to make them look like horses.
(EKA: Episodio 806)

Cartoon

Lapicito draws an uppercase O.
(EKA: Episodio 860)

Muppets

Pageant: How a flower grows
Gladys the Cow stars as a seed. Ernie plays a rain cloud and Herry Monster is the sun, whose attentions cause the seed to bloom into a flower.

Film

A boy talks about his soccer team.

Cartoon

A gorilla outgrows his toy fire truck, and is about to throw it away, when he decides to pass it on to his little brother.

Cast

Carmen sings about how children are special, no matter what.

Muppets

The Number of The Day: 9
9 nifty bats, dressed to the nines, fly in after 9 is announced to be the number of the day, and The Count counts them.

Cartoon

O for Oruga
Artist: Oscar González Loyo
(EKA: Episodio 860)

Film

Kids take a field trip and get to ride in small boats.

Muppets

The Count sings "Cloud Nine".
(EKA: Episodio 812)

Cartoon

Lapicito draws a lowercase O.
(EKA: Episodio 860)

SCENE

Pancho places a statue of himself in the center of the plaza, which Abelardo, Lola, Manuel and Daniela mistake for the real Pancho.