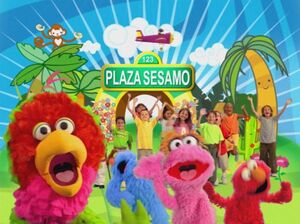 Picture
Segment
Description

SCENE
Lola Aventuras
Lola visits the North Pole, looking for the supposed monster living there. She meets a penguin who reveals he's the "monster".

Cartoon
Dr. Nancy Einstein learns about ice cubes.
Artist: Bruce Cayard

Muppets
Bert missed the ice cream truck. Ernie offers to share his ice cream and runs home to get a bowl, while Bert holds his ice cream.
Part 1

Film
Ice cream cone factory

Cartoon
Lapicito draws an uppercase Z.
(EKA: Episodio 833)

Film
Kid jungle explorers sight a wild Letter Z.
(EKA: Episodio 833)

Animation
The letter Z in various typefaces.
(EKA: Episodio 833)

Muppets
Ernie hasn't returned yet, and the ice cream is starting to melt...
Part 2

Film
A song about eating over footage of babies eating.
(EKA: Episodio 823)

Cartoon
A "zorillo" (skunk) scares his friends away with his stench, but one with a clothing pin over his nose stays.
(EKA: Episodio 833)




Video
Gymnasts form a Z, for Zulema.
(EKA: Episodio 833)

Cartoon
Lapicito draws a lowercase Z.

Film
Girls sing a jump-rope rhyme about naming a puppy.
(EKA: Episodio 818)

Muppets
Bert is still waiting for Ernie, and eats the ice cream before it melts all over his arm.
Part 3

Song
"We Got the Power!" - a hip-hop song about computers.
(EKA: Episodio 821)

Animation
A man asks kids about zero. (Includes an animated Oscar cameo)
(EKA: Episodio 800)

Film
A girl talks about making bread. And how good it is when you make it yourself.
(EKA: Episodio 800)

Animation
Various animals are scared off, leaving zero.
(EKA: Episodio 832)

Muppets
When Ernie returns, Bert has finished his ice cream and feels very sorry. But Ernie doesn't mind: the ice cream truck passed by the bus stop, so he bought a new cone for himself.
Part 4

Cartoon
A near-sighted princess goes to the eye doctor and gets glasses.
Artist: ArtistMike
(EKA: Episodio 811)

SCENE
Modesto Microfono interviews various people with glasses, including a boy (who needs them to see), La Abuela (who needs them to read) and Pancho (who wears sunglasses).
Notes
This episode is available for purchase on iTunes.