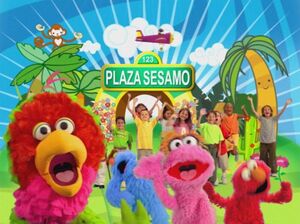 Picture
Segment
Description

SCENE

Modesto Microfono appears on the scene where Pancho is performing a cello recital for the kids. Once he finishes, Modesto thinks his report is over, but then a mariachi band arrives and Modesto shows his skills on the trumpet.

Film

Kids learn how to play string instruments as computer graphics illustrate their sounds.
(EKA: Episodio 815)

Muppets

Count von Count sings "Lambaba" as he counts sheep and other animals that pop into the room.
(EKA: Episodio 817)

Animation

Puzzle pieces make a video of a bear.
(EKA: Episodio 809)

Film

A girl sings about the pets they have at the pet shop to her customers.
(EKA: Episodio 819)

Muppets

Three Honkers teach a newly-hatched baby Honker to honk.
(EKA: Episodio 837)

Film

Human and animal babies learn to walk.

Cartoon

I for Iguana
Artist: Oscar González Loyo




Video

Gymnasts form an I, for Irma.
(EKA: Episodio 815)

Animation

I/i candles
(EKA: Episodio 815)

Song

"Take a Breath" (Re-filmed version)
(EKA: Episodio 803)

Animation

A puzzle of an orangutan is put together.
(EKA: Episodio 835)

Muppets

"Everybody's Song"

Cartoon

Counting 40 pigs
(EKA: Episodio 844)

Song

"Soy Veterinario"

Cartoon

The rabbit and the turtle race to the top of a building. The rabbit goes up 40 steps, but the turtle takes the elevator.
(EKA: Episodio 817)

SCENE

Pancho takes Elefancio to the veterinarian's office, but a trickster parrot continuously makes them think it's their turn to see the doctor.
Notes
This episode is available for purchase on iTunes.