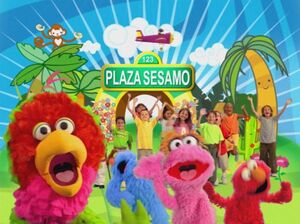 Picture
Segment
Description

SCENE
Hazlo Tu Mismo
Abelardo and friends play with balls and teach a monster how to bounce one.

Animation
Cecille sings "Up Down, In Out, Over and Under."
(EKA: Episodio 816)

Film
A boy talks about his gymnastics class.
(EKA: Episodio 799)

Cartoon
A seal and a bear fight over a circus ball, but learn to cooperate.
Artist: Frank Gresham
(EKA: Episodio 745)

Muppets
Pancho drops his remote when introducing the letter F. His TV turns on, revealing some "focas" (seals).

Cartoon
F for Foca

Muppets
Ernie plans on counting cookies, which attracts Cookie Monster. Ernie finds out in both of his boxes he has zero cookies.

Animation
Various animals are scared away, leaving zero.

Song
"I'm Feeling Proud"
(EKA: Episodio 807)

Cartoon
Monsters have a "fiesta" (party).
Artist: Oscar González Loyo
(EKA: Episodio 807)

Film
A boy gets a piñata for his birthday.

Animation
F candles
(EKA: Episodio 807)

Muppets
A father monster sings a song to his confused son about the difference between up and down.

Film
A soccer ball is kicked arriba (over) and debajo (under) a goalie.
(EKA: Episodio 817)

SCENE
Pancho coaches some kids in a game of soccer and plays the part of goalie.