Plaza Sésamo
Plot
Maria loves her friends
Air date
2005
Season
9
Sponsors
B, 3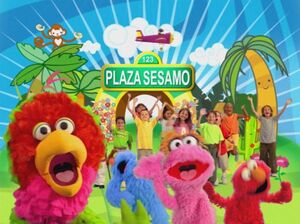 Picture
Segment
Description

SCENE
Maria sings about her friends on Plaza Sésamo.

Film
Three cowpoke children ride their sticks along the dusty trial and find a toy workshop. The owner invites them in and spruces up their sticks to make them look like horses.
(EKA: Episodio 806)

Cartoon
Musicians in a painting learn to cooperate to play music.

Muppets
Oscar and Grundgetta sing "The Off-Key Song".

Animation
At night, a spider swings through a museum to observe the art.
(EKA: Episodio 812)

Video
Three kids dance in three columns.

Cartoon
5 birthday candles
(EKA: Episodio 806)

Muppets
Snuffy tells Rosita that although he has no arms, his snuffle can act like one.

Animation
Pencil Box B / b
(EKA: Episodio 822)

Film
A child explains that he can paint anything.

Cartoon
A girl describes why she likes the color black.
Artist: Lisa Crafts

Film
Wegman's dogs: Battina poses for a painting.

Cartoon
In the "Land of No Shoelaces," people find it difficult to play basketball, swing and run, until Edna Lovelace comes along.
Artist: ArtistMike
(EKA: Episodio 799)

Muppets
The Two-Headed Monster tries on different pairs of shoes, but can't agree on one pair. They end up agreeing to wear shoe boxes instead.
(EKA: Episodio 758)

Muppets
Chispas de Informacion
Modesto Microfono interviews a boy who shows him how he ties his shoes.

Cartoon
A "bruja" loads assorted ingredients into her cauldron...for her bath.
Artist: Oscar González Loyo
(EKA: Episodio 822)

Muppets
A Multimuppet wizard and his Multimonstruo assistant count the various ingredients they need for his potion. Once he's done, the potion turns the monster invisible.