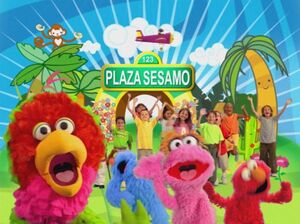 Picture
Segment
Description

SCENE
Jorge Campos visits the plaza to help the gang prepare for the "Copa Sesamo".

Film
A soccer player bounces a ball 5 times.

Cartoon
A group gives a newcomer funny looks, which hurts his feelings, but then they invite him to play marbles with them. He turns out to be a good player.
Artist: Joanna Priestley

Film
Kids talk about the different places they play soccer.
(EKA: Episodio 801)

Muppets
Kermit tries to explain the difference between two balls, but they keep changing to make themselves the same. The balls are large and yellow with colorful stripes and the ability to talk!
(EKA: Episodio 799)

Animation
Cecille sings "Up Down, In Out, Over and Under."

Film
Interpretive dancing.
(EKA: Episodio 799)

Animation
Fish swim in various, exotic locations.
(EKA: Episodio 810)

Muppets
Grover sings "Over, Under, Around and Through."

Animation
Kids type "G/g" on the computer.

Cartoon
"Recycling Blues"

Song
Everyone has the same feelings, "No Matter What." Kids of all types play with a huge beach ball.
(EKA: Episodio 750)

Cartoon
Paper crumples to reveal G, g, and Gg.

Muppets
Abelardo, Lola, Pancho and the kids sing "Nuestro Mundo."

Cartoon
Aliens vacation on Earth for an afternoon, but they litter.

SCENE
Jorge wants to begin practice, but the gang must clean up the field from litter and debris
Ad blocker interference detected!
Wikia is a free-to-use site that makes money from advertising. We have a modified experience for viewers using ad blockers

Wikia is not accessible if you've made further modifications. Remove the custom ad blocker rule(s) and the page will load as expected.