Plaza Sésamo
Plot
Federico's film (season premiere)
Air date
2005
Season
9
Sponsors
A, 5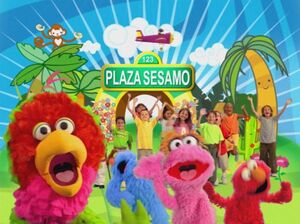 Picture
Segment
Description

SCENE
Federico Pelini films Pancho, Lola, Abelardo and Maria for his movie about Plaza Sesamo.

Cartoon
A boy talks about how music makes him feel.

Film
Kids play "Twinkle Twinkle" on bucket, glass, and a broiler pan.

Cartoon
Beginning / middle / end: a beatnik follows a trombonist's note through a long horn.
Artist: Frank Gresham
(EKA: Episodio 735)

Film
A boy learns how a flute is made.

Cartoon
A tree experiences the various weather changes during the seasons.

Muppets
Cookie Monster sings "Eating Cookie" -- there's another reason every season.

Cartoon
5s are found in the icy environment.
(EKA: Episodio 738)

Animation
Crayons play together.

Film
A girl talks about painting.

Cartoon
Pencil box A/a

Video
Gymnasts form an A, for Ana

Muppets
Rosita and Snuffy talk about arms.

Cartoon
Kid names his own body parts.

Song
"Elbows and Knees"

Cartoon
A bear counts 5 clouds.
(EKA: Episodio 738)

SCENE
Federico gathers Susana and her family, La Abuela and Don Boni for his film. He then gets the rest of the plaza residents together for a group shot and yell "Buenvinidos a Plaza Sesamo!"