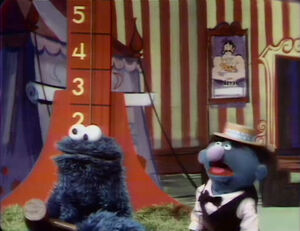 Cookie Monster goes to the carnival and plays the "test your strength" game. Unbeknownst to him, the carnival barker rigged the game so nobody can win -- until Cookie finds out what the prize is. (EKA: Episodio 734)
Film: Kids show how to dance and sing the ronda "El Juego del Calentamiento"
Film: How to make a jarana.
Ad blocker interference detected!
Wikia is a free-to-use site that makes money from advertising. We have a modified experience for viewers using ad blockers

Wikia is not accessible if you've made further modifications. Remove the custom ad blocker rule(s) and the page will load as expected.