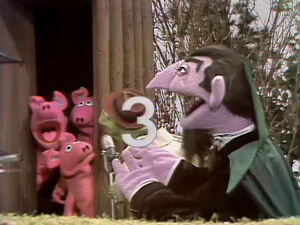 Film: Acrobats go under, over, through and around a hoop.
A Multimonstruo looks for the number 7.
News Flash: Kermit's interview with the Three Little Pigs is interrupted by the Count, who wants to count them. When he counts the pigs, thunder and lightning crash, and the pigs, thinking it's going to rain, go inside and refuse to be interviewed. When the Count's counting puts an end to the interview, Kermit goes to interview the residents of the next house... the Seven Dwarves.
Ad blocker interference detected!
Wikia is a free-to-use site that makes money from advertising. We have a modified experience for viewers using ad blockers

Wikia is not accessible if you've made further modifications. Remove the custom ad blocker rule(s) and the page will load as expected.