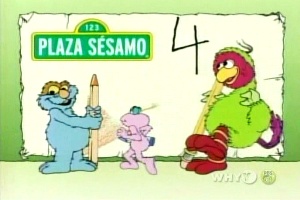 Picture
Segment
Description

SCENE
A boy sits out in the plaza and imagines having the jobs of the characters who pass by (Barón Púrpura, Verduberto and a Multimonstruo photographer). For now, he settles on just being a kid.

Animation
A clay-animated man uses a palette and a paintbrush to paint the letter P.
(EKA: Episodio 737)

Song
"Yo Quiero Ser": A girl sings about being an airplane pilot.
(EKA: Episodio 744)

Cartoon
Ten construction workers build a number 10.

Muppets
Bert gets all dressed up for the Pigeon Lover's Party, but he looks so different that Ernie doesn't believe that it's him.

Film
Three boys take their pictures in a photo booth.
(EKA: Episodio 737)

Cartoon
A photographer shows off his first picture of cows, his next picture of ducks, and his last picture of a pig.
(EKA: Episodio 737)

Song
"Say Cheese"
(EKA: Episodio 742)

Cartoon
A panda rolls around, accidentally shifting his colors up.
Artist: Oscar González Loyo
(EKA: Episodio 737)

SCENE
Lola, Pancho and Abelardo sing "Quisiera Ser Tan Alta."
This segment is replayed during the credits.

Cartoon
The Ringmaster treats us to the balancing feats of ten brown bears.
Artist: Jeff Hale

Film
A group of people form a human pyramid to illustrate top and bottom.
(EKA: Episodio 732)

Animation
A pyramid floats in space.

Muppets
The Count starts his first day as an elevator operator. Kermit the Frog wants to go to the seventh floor, but the Count would much rather go all the way to the top floor.

Cartoon
Why did the chicken cross the road?

Film
What sound does a duck make?

Animation
Clown Honking #10
(EKA: Episodio 735)

SCENE
Lola, Ernesto and Pancho appear on a game show where they must correctly recite tongue twisters, though the host has problems explaining them in the first place.

Closing
The trio displays the sponsors with a machine.