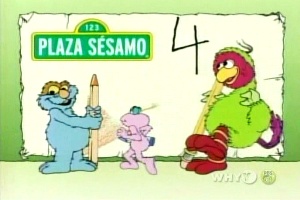 Picture
Segment
Description

Muppets
Pancho, Lola and Abelardo wait for and ride on the bus as the kids sing "Que No Se Te Vaya El Camión."
This segment is replayed during the credits.

Cartoon
"Visual Patterns"

Film
Various situations of before and after, to a hip-hop beat.
(EKA: Episodio 734)

Muppets
The Two-Headed Monster tries on different pairs of shoes, but can't agree on one pair. They end up agreeing to wear shoe boxes instead.
Cartoon
Two kids wonder where some mysterious tracks on the ground come from.

Film
On a stage, a girl tells a riddle about shoes to her kid audience.
(EKA: Episodio 743)

Cartoon
"Your Feet's Too Big"
Artist: Sally Cruikshank

SCENE
Lola shows Maria what she does when she feels happy.

Cartoon
Jake the Snake demonstrates body parts.

Film
In stop-motion, a boy makes landscapes out of sand and water.

Cartoon
A song about 14s appearing in the desert.
Artist: Joey Ahlbum

Film
A boy asks his friends what they like to do at the beach.

Cartoon
A man builds a letter H, which shifts into an A from an earthquake.

Muppets
Anything Muppets sing "How Do You Get From Here to There?"

Animation
H/h (space paint)
(EKA: Episodio 734)

Muppets
Pancho presents the letter H, for Hipopotamo.

Celebrity
Ernesto Laguardia sings "El Ritmo de la Vida" to the kids and Abelardo.

Closing
The trio displays the sponsors with a machine.
Ad blocker interference detected!
Wikia is a free-to-use site that makes money from advertising. We have a modified experience for viewers using ad blockers

Wikia is not accessible if you've made further modifications. Remove the custom ad blocker rule(s) and the page will load as expected.