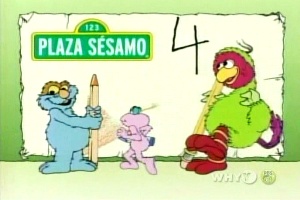 Picture
Segment
Description

SCENE
Lola stops by Pablo's house find a story and he tells her he has many titles to choose from. She doesn't understand what a "title" is, so he explains using various books.

Song
"Imagination Landscape"
(EKA: Episodio 733)

Film

A boy and his mother play the Taiko drum together.

Cartoon
The story of a king who learns to take a bath.
Artist: Bruce Cayard

Muppets
Ernie sings "Rubber Duckie."

Cartoon
African quilt pattern #3
(EKA: Episodio 740)

Film
Kids teach the "Ronda Acitrón" while passing around glasses of different colors.
(EKA: Episodio 745)
This segment is replayed during the credits.

Cartoon
A girl waters the flowers in her "jardin" (garden).
Artist: Oscar González Loyo

SCENE
Modesto Microfono reports on the difference between fast and slow, illustrated by a boy jumping rope.

Cartoon
Number Creatures #18

Film
A boy helps his younger brother learn to play "Las Mañanitas."
(EKA: Episodio 747)

Cartoon
Two spiders race, where the smaller spider loses. He asks how the big spider is so fast and he explains that bigger things can travel faster.

Muppets
News Flash
Kermit the Frog reports from an alphabet mine where they dig Js. The miners tell him various words that begin with J and Richard presents him with his own J.

Song
"Lavarse las Manos"

SCENE
Abelardo, Carmen and Romania watch a painter create a painting of ice cream. Following its completion, he asks they hang it in the freezer, so it won't melt.

Closing
The trio displays the sponsors with a machine.