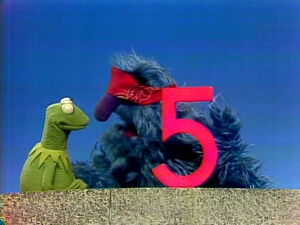 Kermit tests two blindfolded monsters and asks them which number they're feeling. Herry Monster minus his blindfold describes how he knew the number was a five and in the process breaks the five into pieces. Cookie Monster attempts to feel the number and Kermit tells him that he can't since its broken. Cookie Monster devours the pieces and tells Kermit it tastes like a five.
Lola asks "El Ceniciento" to try on a belt, but he has a little trouble figuring out exactly where his waist is.
Cartoon: A family goes over their camping checklist before they leave for the woods.
Elmo shows "near" and "far".
Film: The kids have fun playing "Doña Blanca" with pillars made of chewing gum and chocolate.