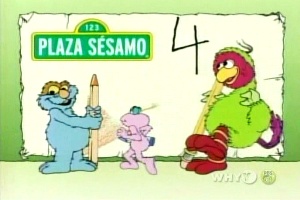 Picture
Segment
Description

SCENE
A Multimuppet visits a Multimonstruo barber, who gives him a shorter haircut (underscored by music from The Barber of Seville). When his hair is cut too short, the barber gives him a wig.

Cartoon
A boy draws a portrait of himself and calls it YO.

Song
"Si Estas Feliz"

Cartoon
Fish form G and g.

Muppets
Ernie & Bert — Bert and Ernie go fishing. Ernie catches fish by yelling "Heeeeere fishy, fishy, fishy!", and they come flying into the boat. Bert tries it, but only catches a shark.

Cartoon
Underwater, there's a 9

Film
A boy talks about his grandfather, who's a fisherman.

Cartoon
A "gota" (drop) of water plays in the sink.

SCENE
Pancho and Abelardo are going to the beach and Abelardo tries packing his ball, which is too big to close the suitcase with. Abelardo realizes they can simply deflate it.

Animation
Two balls play on a seesaw, when a third ball wants to join them (ending up in the middle).

Song
Everyone has the same feelings, "No Matter What." Kids of all types play with a huge beach ball.

Animation
Clown Honking #9

Muppets
Waiter Grover: Grover tells Mr. Johnson the menu, which has the items numbered. Number 9 is the special of the day. It turns out to be a real number nine, but Mr. Johnson doesn't want it. (It's medium rare, and he likes his nines well-done.)

Cartoon
A boy shares his bubbles with some kids dancing in a field.




Muppets / Celebrity
Lola tells Pancho a dream she had last night, where music group Por Siempre visited the plaza and performed. Pancho happens to be friends with them and calls them up for a visit. The group arrives and performs "Amigos X Siempre."
This segment is replayed during the credits.

Cartoon
Agui Aguillita wants you to remember to conserve water.

SCENE
Pancho, Daniela and Gertrudis provide Vincente with various recyclable materials, which he then turns into usable items for them.

Closing
The trio displays the sponsors with a machine.