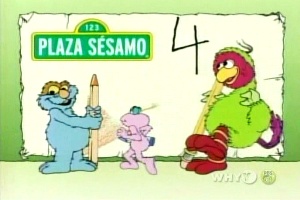 Picture
Segment
Description




SCENE
Federico Pelini ropes La Abuela into starring in his newest film, which involves her moving near and far from the camera. She eventually gets tired for doing this and goes very far, to keep doing her errands.

Animation
Airplanes carve a capital and lowercase letter Y.

Song
"Canicas"

Muppets
20 Faces (including kids, Mulimuppets and Multimonstruos)
This segment is replayed during the credits.

Muppets
Prairie Dawn reports for "Fairy Tales Today" and goes to the park where a large braid of hair is all over the place, causing various people to trip on it. Rapunzel gets her hair stuck and can't break free, until a bystander brings up the idea of a haircut.

Film
"Mi Pelo"

Cartoon
A hand does tricks with a yo-yo.
Artist: Oscar González Loyo

SCENE
An old, jazz monsters attempts to show how a saxophone works, but finds it won't work, no matter what parts he's forgotten about. It turns out a guava fruit was stuck inside the entire lecture.

Cartoon
Two cowpoke rattlesnakes hear a strange noise and attempt to split up, but one snake doesn't comprehend how to be "next to" the cactus.
Artists: Bud Luckey and Rudy Zamora

Film
Saxophone factory

Cartoon
A boy bounces a soccer ball 20 times.

Muppets
One of the creatures tries the glass dance himself, then drinks from it.

Cartoon
A girl's glass of juice mysteriously becomes empty after she fills it.




Film
A boy sings about the different kinds of hats, then watches one being made.




SCENE
Señor Lechuga and Don Boni sit on a bench marked with a sign reading "PINTURA" (paint), though neither can figure out why. A painter monster comes by fixes the sign to read "PINTURA FRESCA" (Wet Paint). The two get off the bench and find their backs marked with paint.

Closing
The trio displays the sponsors with a machine.