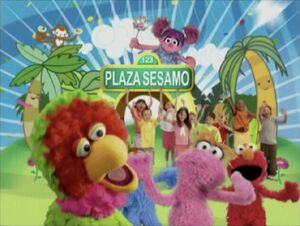 This episode guide is missing segments cut from Telefutura's broadcast.
Picture
Segment
Description

COLD OPEN

SCENE
Abelardo finds a bird building a nest and decides to make one too. His first attempt, however, is a large pile of sticks that becomes a hazard. Abelardo shows them an image of Big Bird, who lives in a nest. With the help of his friends, they make a tree-house nest in the plaza's biggest tree.

Film
C for Circle

Insert
The gang sings about nature and spring.
(First: Episodio 917)

Cartoon
A boy makes a birdhouse to shield the birds from the rain.

Muppets / Film
Pancho Visión
Pancho rolls a film of kids at the zoo, who later watch the releasing of a hawk.

Insert
Lola and Daniela introduce the number 1.

Animation
A screw takes the shape of the number 1.

Muppets
The Number of the Day: 1
After practicing a few times, the Count hits an organ key, and the number is one. One elephant appears.
(First: Episodio 869)

Cartoon
A creature needs help moving and eating a large apple.

Muppets
Lola Aventuras
Lola's hot air balloon dumps her off in Colombia's Botanical Garden, where some kids plant flowers.
(First: Episodio 966)

SCENE
Lola announces the sponsors.