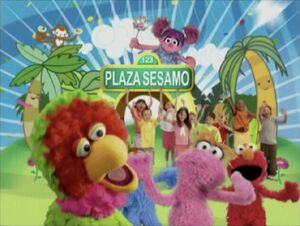 Picture
Segment
Description

COLD OPEN
A mouse introduces the two words of the day - "gave" (high) and "aguardo" (low).

SCENE
Pancho tries to sing with a mariachi band, but they find his singing too low.

Film
A mother makes a dance outfit for her daughter.
(EKA: Episodio 742)

Muppets
Lola presents the letter R, then displays a "rana" (frog). (new music added)
(First: Episodio 926)

Cartoon
Two lowercase Rs become the legs of a "rinoceronte" (rhinoceros).
(EKA: Episodio 865)

Muppets
The Number of the Day: The Count counts and sings up to 12, accompanied by the Countess and their band of musicians.
(First: Episodio 886)




Cartoon / Film
Three cartoon frogs say "reduce, reuse, recycle!" and hop around the globe.
A boy who lives in Bali narrates a film about how his community recycles their resources.
(EKA: Episodio 992)

Cartoon
People paint a mural of a field landscape.
(EKA: Episodio 863)

Muppets
A Multimonstruo sings a rock version of "I Love Trash."

Animation
A plant grows from a girl's compost heap.
(First: Episodio 991)

Film
"¿Qué harías con una lata?" A girl uses soda cans to make scratch art.
(First: Episodio 1026)

Cartoon
All the instruments in Sousaville love Mr. Tuba's music, but when he plays with them, he doesn't play the same music they're playing.
Artist: ArtistMike
(EKA: Episodio 885)

Muppets / Film
Pancho Vision
Pancho tries to repair his video player, finding it's not plugged in. Today's film is of a girl, who recycles bottles for a hand-made yo-yo.
Film only: (EKA: Episodio 880)

Film
A song about recycling over footage of kids taking used bottles and using them as flower pots. (New audio)
(EKA: Episodio 813)

Animation
R in the mailbox.
(EKA: Episodio 891)

Muppets
Abelardo shows the viewer 12 frogs.
(First: Episodio 998)

Animation
Counting 12 flowers by 2s
(First: Episodio 998)

Muppets
Elmo rides a tricycle and sings "Riding My Tricycle" to express his joy and pride in the activity.
(First: Episodio 870)
Ad blocker interference detected!
Wikia is a free-to-use site that makes money from advertising. We have a modified experience for viewers using ad blockers

Wikia is not accessible if you've made further modifications. Remove the custom ad blocker rule(s) and the page will load as expected.