Rua Sésamo
Plot
Air date
1989
Season
1
Sponsors
DVD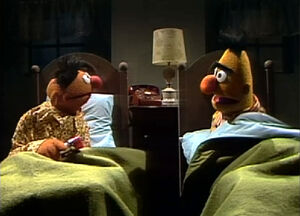 Ernie and Bert: At night, Ernie can't sleep because he's thirsty. Bert is out of town visiting his brother, so Ernie calls Bert on the phone to tell Bert he's thirsty. He follows Bert's advice to get a glass of water, but calls Bert again to thank him, and say he can't sleep. Bert suggests that he count sheep ... except Ernie doesn't hang up the phone.
Two-Headed Monster: The monster's arrows point in opposite directions, so they straighten the arrows out and follow them.
Ad blocker interference detected!
Wikia is a free-to-use site that makes money from advertising. We have a modified experience for viewers using ad blockers

Wikia is not accessible if you've made further modifications. Remove the custom ad blocker rule(s) and the page will load as expected.