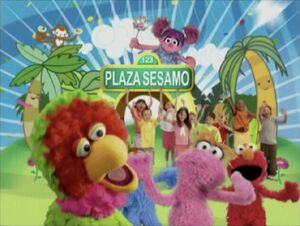 Picture
Segment
Description

COLD OPEN
Abelardo presents the word of the day - "nieve" (snow).

SCENE
Daniela, Lola and Manuel have an argument by Vicente's cart. Pancho arrives and teaches them to take turns. They all get in a fair line, when Vicente shows up to run his cart, but Pancho tells him to not cut in their line.

Cartoon
Global Thingy
Popcorn Thingy learns to share.

Film
"¿Qué harías con una botella?" Two girls use empty bottles to plan flowers in.

Muppets
Abelardo presents the letter Y, for "yo-yo."

Cartoon
Lapicito draws a Y.

Song
Cookie Monster sings "Food" over footage of kids eating.
(First: Episodio 1015)

SCENE
Pancho aids Pablo in bringing his many groceries home. Pancho, claiming he's very strong, opts for the heavy bag instead of the light one. After making some tiring trips, Maria finally has two light bags for them, but Pancho is too tired and has Pablo carry him home.

Animation
Airplanes carve a capital and lowercase letter Y.
(EKA: Episodio 748)

Muppets
Telly and Elmo sing about the difference between "Heavy and Light".
(EKA: Episodio 994)

Cartoon
Boris and Saurus, best friends, fight over what they want on their pizza, and eventually make up.
(EKA: Episodio 970)

Muppets
Worms in Space
The worms form the number 17.

Film
Kids prepare a healthy fruit meal.

Animation
A juggler juggles things that are heavy and light.
Artist: Misseri Studio
(First: Episodio 998)

Muppets / Film
Pancho Visión
Pancho is resting from his trip of getting today's video, so a plant fills in. The film today features two kids helping cook deserts.

Cartoon
People paint a mural of a field landscape.
(EKA: Episodio 863)

Muppets
Abelardo, Lola and Pancho sing about smiles.
(EKA: Episodio 963)
Ad blocker interference detected!
Wikia is a free-to-use site that makes money from advertising. We have a modified experience for viewers using ad blockers

Wikia is not accessible if you've made further modifications. Remove the custom ad blocker rule(s) and the page will load as expected.