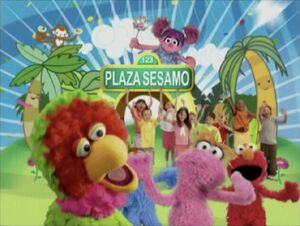 Picture
Segment
Description

COLD OPEN
A Multimonstruo introduces the word of the day - "Carpintero" (carpinter).

SCENE
Pancho hires a carpenter friend of Don Boni's.

Cartoon
A girl imagines having a pet manatee.
(First: Episodio 944)

Muppets
Lola shows 8 trumpets.
(First: Episodio 1004)

Film
Ornate 8s stroll through a gate and pose in other remarkable places.
(EKA: Episodio 1004)

Cartoon
A dolphin shows encima (above) and debajo (below).
(EKA: Episodio 802)

SCENE
'Lola Aventuras
Lola visits a cave and talks with a bat.

Cartoon
A young bat identifies night sounds while flying with his parents.

Film
A boy learns about ships from his grandfather, who is a captain.
(EKA: Episodio 824)

Muppets
Pancho introduces the letter S, for "sol" (sun).
(First: Episodio 946)

Film
The letter S appears in a pool.
(EKA: Episodio 1004)

Muppets
The Number of the Day: 8
Eight bats show up when The Count reveals that 8 is the number of the day.
(First: Episodio 876)

Animation
Sand creatures illustrate the song, "Sing."
(First: Episodio 935)

Film
Three cowpoke children ride their sticks along the dusty trial and find a toy workshop. The owner invites them in and spruces up their sticks to make them look like horses.
(EKA: Episodio 806)

Muppets / Film
Pancho Visión
Pancho has some onion soup prepared and while he goes to get a spoon, he rolls today's film:
A boy talks about how his makes chocolate from coca beans.
When the film ends, Pancho comes back to find Elefancio has eaten his soup.

Cartoon
A map of Africa morphs into the shape of animals that are found there.

Insert
Pancho, Lola and friends sing "Igualitos."
(First: Episodio 920)
Ad blocker interference detected!
Wikia is a free-to-use site that makes money from advertising. We have a modified experience for viewers using ad blockers

Wikia is not accessible if you've made further modifications. Remove the custom ad blocker rule(s) and the page will load as expected.