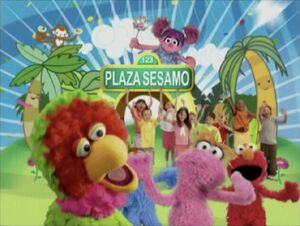 Picture
Segment
Description

COLD OPEN
Lola and Daniela introduce the word of the day - "leon" (lion). A Multimonstruo has one at the end of his rope, frightening them away.

SCENE
Modesto Microfono covers an event where Lola, Daniela, Manuel and a monster are going to rice. The former three have bikes, while the monster has a car with no wheels, which he needs in order to compete. He adds wheels and then uses his propeller cap to send his car, himself and Modesto flying.

Muppets
Grover flies an airplane cerca (near) and lejos (far).
(EKA: Episodio 801)

Muppets
Lola introduces the letter K, for "Koala."

Cartoon
K for Karate
Artist: Oscar González Loyo
(EKA: Episodio 830)

Film
A voice-over adds kids on a bench.

Animation
Number creatures #19
(EKA: Episodio 833)

Celebrity
Ha*Ash and Lola perform "A New Way to Walk."

Film
A mom takes her son for a walk in the stroller, and he sees all he can see.
(EKA: Episodio 953)

Muppets
Pancho displays 19 apples.

Film
19 glasses, 19 chairs, 19 socks

Animation
The number 19 in space

Muppets
The Number of the Day: The Count counts and sings up to 19, accompanied by the Countess and their band of musicians.
(First: Episodio 900)

Film
Jaws spoof presenting the letter K.

Film
A person with a triangular head discovers triangles in the city.
(First: Episodio 997)

Muppets / Film
Pancho Visión
Pancho rolls a film of a girl and the celebration around her new baby brother.

Film / Animation
Circles of all kinds are displayed as funky rap music plays.
(EKA: Episodio 800)

Muppets
Theater in the Park: "The Grapes of Math"
Elmo and a boy add their grapes, totaling to 7.
(EKA: Episodio 847)

Film
On a park bench, three kids and two kids are added.

Muppets
Pancho shows "Over, Under, Around and Through", but gets exhausted.
(First: Episodio 895)
Ad blocker interference detected!
Wikia is a free-to-use site that makes money from advertising. We have a modified experience for viewers using ad blockers

Wikia is not accessible if you've made further modifications. Remove the custom ad blocker rule(s) and the page will load as expected.