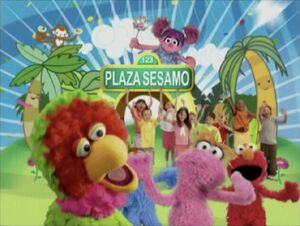 Picture
Segment
Description

COLD OPEN
Lola gives clues about the word of the day - snail.
(First: Episodio 957)

SCENE
Lola tries to get Pancho to play her rhyming game. When he finally gets into it, she leaves to play with Abelardo.

Film / Animation
Cardboard boxes are transformed into a cow-shaped chair.
(First: Episodio 995)

Muppets
Pancho displays the letter E, then an "elefante" (elephant). (new music and graphics)
(EKA: Episodio 947)

Animation
Letter Garden: E
(EKA: Episodio 797)

Animation
2's in space

Muppets
Worms in Space form shapes.

Animation
Faces and other features are added to tin cans before becoming a mobile.

Insert
The floating kids form a triangle.
(EKA: Episodio 805)

Cartoon
Dr. Annie Eyeball, PhD., looks at breathing.
Artist: Bruce Cayard

Muppets
The Number of the Day
Two tubas in tutus, tap dancing, show up after The Count learns that the number of the day is 2.
(First: Episodio 864)

Cartoon
Some "couch potatoes" get some exercise on the playground.

SCENE
Pancho asks Lola to put his different-sized triangles in their proper cases.

Film
A person with a triangular head discovers triangles in the city.
(First: Episodio 997)

Muppets
Lola presents 2 trucks.
(First: Episodio 997)

Cartoon
It takes two kids two blow up a number 2.
(EKA: Episodio 734)

Film
Jaws spoof presenting the letter E.
(EKA: Episodio 997)

Cartoon
E de Eco (echo)
Artist: Oscar González Loyo

Muppets / Film
Pancho Visión
Pancho counts his 4 onions, while the director tells him to get on with the show. He presents a film of kids observing nature as they hike to see a volcano.
Film only: (EKA: Episodio 917)

Cartoon
Lightning bugs make shapes.
Artist: Fred Garbers
(EKA: Episodio 734)

Insert
Abelardo and the gang rap about rhyming.
(First: Episodio 867)
Ad blocker interference detected!
Wikia is a free-to-use site that makes money from advertising. We have a modified experience for viewers using ad blockers

Wikia is not accessible if you've made further modifications. Remove the custom ad blocker rule(s) and the page will load as expected.