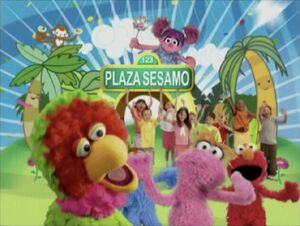 Picture
Segment
Description

COLD OPEN
Abelardo introduces the word of the day - "cometa."

SCENE
Don Boni tells Pancho that if he's needed, he must ring his doorbell (according to his new sign). Pancho and friends ring it, but it makes animal sounds instead. Rather than tinker with the bell some more, Don Boni changes his sign.

Cartoon
Guessing animal sounds at the circus.

Muppets
Pancho introduces the letter S, for "sol" (sun).
(First: Episodio 946)

Film
Ornate 8s stroll through a gate and pose in other remarkable places.

Muppets
Bert is feeding pigeons in the park, when Elmo comes by and scares them away. Bert attempts to calm Elmo down. Elmo then yells to the pigeons that theres food and to Bert's surprise, they return. Elmo is so proud that he got the pigeons back, he yells again, and scares the pigeons away again.

Film
The letter S appears in a pool.

SCENE
The Big Bad Wolf hosts a show where he demonstrates the different ways to scratch your back.

Film
"Great Moments at the Sink" presents mud-pie champion Sasha Smith washing her hands.
(EKA: Episodio 950)

Muppets
Ernie and Bert play a game with the viewer where they touch the various parts of their face.

Cartoon
A "saxofón" (saxophone) plays itself.
Artist: Oscar González Loyo
(EKA: Episodio 840)

Muppets
Lola shows 8 trumpets.

Muppets
The Number of the Day: 8
Eight bats show up when The Count reveals that 8 is the number of the day.
(First: Episodio 876)

Cartoon
"Captain Spacey" counts 8 planets until the 25-cent rocket machine runs out of juice.
(EKA: Episodio 866)

Muppets / Film
Pancho Visión
Elefancio pulls today's video from the bottom of Pancho's tape stack, causing them to tip over. He picks a film of a boy who helps his father take care of elephants.

Animation
Three chickens repeat the clucking-pattern by their mother hen.

Muppets / Celebrity
Benny Ibarra performs "Right in the Middle of My Face" with Pancho, Lola and Abelardo.
(First: Episodio 940)
Ad blocker interference detected!
Wikia is a free-to-use site that makes money from advertising. We have a modified experience for viewers using ad blockers

Wikia is not accessible if you've made further modifications. Remove the custom ad blocker rule(s) and the page will load as expected.