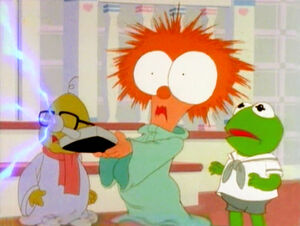 The Babies keep changing the channel one day when Baby Bunsen and Baby Beaker arrive with a new invention, a special kind of remote control. The Babies use this control, and imagine themselves in their favorite programs, but their favorite shows keep getting mixed up.
In one scene, Baby Rowlf (as "Ethan") sings "Is That What's Bugging You, Girl?" to Baby Piggy (as "Piggy Mae").
Songs
"Is That What's Bugging You, Pearl?"
Trivia
When Piggy says she's clueless, both her and Kermit's mouths move.