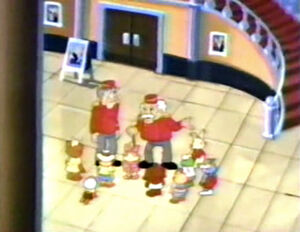 The Babies get excited when they learn that Uncle Statler and Uncle Waldorf are opening their own movie theater. The tots fantasize about going to the new theater.
Baby Animal eats all the snacks at the snack bar. Baby Fozzie messes up the Universal Pictures logo at the beginning of a film. Baby Skeeter watches the "biggest Western movie ever". Baby Scooter also finds himself in a robot movie, while Baby Bean Bunny tries to find Bambi to watch. Baby Piggy once again fantasizes about being a big movie star.
Trivia
The robot character Scooter meets, Johnny 5, is the star of the movies Short Circuit and Short Circuit 2 (the latter title appears on a poster, and is the source of the clip footage). Johnny 5 was puppeteered and voiced by Tim Blaney (and dubbed here by Greg Berg).
Ad blocker interference detected!
Wikia is a free-to-use site that makes money from advertising. We have a modified experience for viewers using ad blockers

Wikia is not accessible if you've made further modifications. Remove the custom ad blocker rule(s) and the page will load as expected.