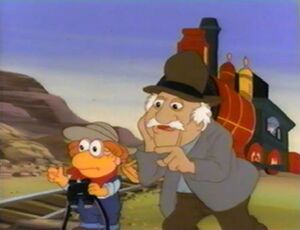 Uncle Statler, Uncle Waldorf, and the Babies set up a toy train and train tracks to reenact the joining of the transcontinental railroad across the United States of America.
Songs
Video releases
Edits
When this episode was released on the Explore With Us video, the ending scene with Baby Animal saying "Go bye-bye" was cut.
Ad blocker interference detected!
Wikia is a free-to-use site that makes money from advertising. We have a modified experience for viewers using ad blockers

Wikia is not accessible if you've made further modifications. Remove the custom ad blocker rule(s) and the page will load as expected.