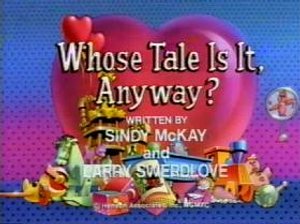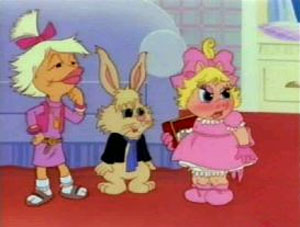 Bean Bunny visits the Nursery and tries to help Baby Piggy and the others catch Baby Gonzo and Baby Animal when they steal Piggy's dolly. Nanny introduces Janice, who is their new next door neighbor. When Bean wants someone to be read his favorite story, "The Tale of Peter Cottontail," Janice says that she would do it, as she's the only one who could read. Piggy becomes jealous and pretends she can also read. All of the Muppet Babies enter the story-book world, re-enacting different versions of the story, while Piggy and Janice fight over the role of Mother Rabbit. Bean pretends to be multiple bunnies so Piggy and Janice will agree on something.
Song
Notes
This episode was one of the handful of episodes that was not shown in US syndication after the initial run and reruns of the show on CBS. It was shown in syndication in the UK.
Ad blocker interference detected!
Wikia is a free-to-use site that makes money from advertising. We have a modified experience for viewers using ad blockers

Wikia is not accessible if you've made further modifications. Remove the custom ad blocker rule(s) and the page will load as expected.