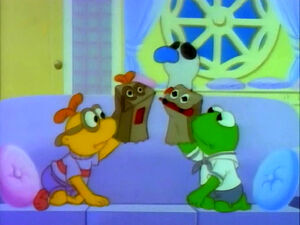 Gonzo and the other babies put on their own TV shows yet again, this time targeting children's television and family programming.
Gonzo creates a Pee-Wee's Playhouse style show, "Gonzee's Playhouse", while Piggy and Bean star in "Piggy the Pooh," and Animal appears as "Animaljuice" (a Beetlejuice take-off).
Skeeter appears as "Skeeter Sagey" in a parody of America's Funniest Home Videos entitled "The World's Busiest Videotapes", and Kermit presents a Sesame Street series "Sesame Seed Boulevard" using lunch bag puppets and oversized letters. A slightly altered version of the "Sesame Street Theme" plays in the background.
Ad blocker interference detected!
Wikia is a free-to-use site that makes money from advertising. We have a modified experience for viewers using ad blockers

Wikia is not accessible if you've made further modifications. Remove the custom ad blocker rule(s) and the page will load as expected.