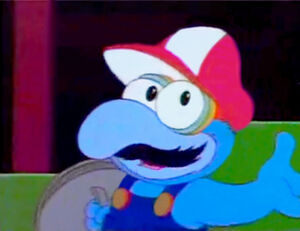 Gonzo and Piggy compete against each other with video games.
Songs
Notes
The title spoofs the popular game system "Nintendo". Some of the games that get parodied include "Donkey Kong," "Frogger," "Centipede," "Super Mario Bros." and "The Legend of Zelda."
The music in the title card changes.
The music score is no longer composed by Rob Walsh, but it is now composed by Robert Irving and Hank Saroyan and sounds completely different.
The sound effects in the show are now different, and don't use the famous Hanna-Barbera sound effects as often.