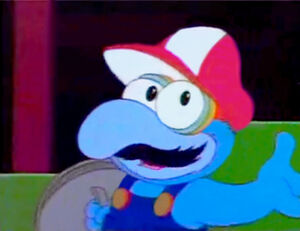 Gonzo and Piggy compete against each other with video games.
The first episode of season seven (eighty-fifth episode in total) of the Muppet Babies TV show is about the babies playing "Pretendo" games and imagine themselves as characters in them.
During the first part of the episode, Gonzo imagines himself in a Donkey Kong-like setting and imagines to be "Super Bario Weirdo", fighting a dragon named King Copacabana in place of Donkey Kong. Later in the episode Piggy takes King Copacabana's place in this imaginary game, and then she imagines to be a ninja in the game. Later both her and Gonzo are seen again in the same enviroment during the song. Elevators based on the ones from Donkey Kong also make appearances in various imaginary games. Additionally, as Gonzo is searching trough his games, he names three of them as Super Bario Brothers, Son of Super Bario Brothers and Second Cousin of Super Bario Brothers. While these are references to the Marioseries, the second one may be a reference to Donkey Kong Jr.
Gameplay footage of Donkey Kong is shown at a certain point, meaning that Gonzo was playing the actual game, and later footage from Donkey Kong Jr. is shown as Piggy plays.
Songs
Notes
The title spoofs the popular Nintendo Entertainment System video game console. Some of the games that are parodied include Donkey Kong, Frogger, Centipede, Super Mario Bros., and The Legend of Zelda.
The music in the title card changes.
The music score is no longer composed by Rob Walsh, but it is now composed by Robert Irving and Hank Saroyan and sounds completely different.
The sound effects in the show are now different, and don't use the famous Hanna-Barbera sound effects as often.
Ad blocker interference detected!
Wikia is a free-to-use site that makes money from advertising. We have a modified experience for viewers using ad blockers

Wikia is not accessible if you've made further modifications. Remove the custom ad blocker rule(s) and the page will load as expected.