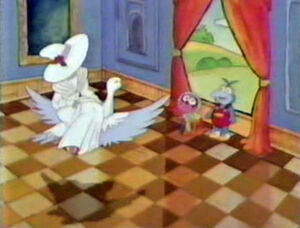 Gonzo and Animal visit Mother Goose, and find that "Goosetown" is in a mess.
Rhymes
Rain, Rain, Go Away
There Was a Crooked Man (Fozzie)
Hey Diddle Diddle (with Kermit)
Little Bo Peep (Skeeter)
Hickory Dickory Dock (Scooter)
Mary Mary Quite Contrary (Piggy), first mistaken for Little Miss Muffet
Old Mother Hubbard (Rowlf)
and Nanny as Mother Goose
Songs
Notes
This is the final Muppet Babies episode to have the music score composed by Rob Walsh.
At one point, in the bginning, Gonzo makes a Star Trek reference.
Ad blocker interference detected!
Wikia is a free-to-use site that makes money from advertising. We have a modified experience for viewers using ad blockers

Wikia is not accessible if you've made further modifications. Remove the custom ad blocker rule(s) and the page will load as expected.