Episode 520: Wally Boag
Talk

0
27,065pages on
this wiki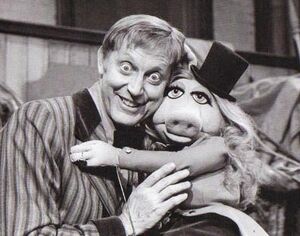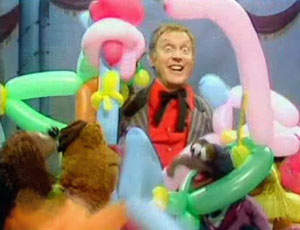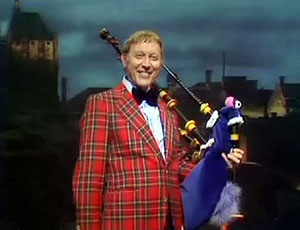 In honor of vaudeville-influenced guest star Wally Boag, the Muppets salute vaudeville, with a balloon animal act, a bagpipe player and a hypnotist. Wally performs acts he made famous at the Golden Horseshoe Revue at Disneyland, including the Pecos Bill teeth-spitting sketch.
Songs/Sketches
Wally Boag makes balloon animals
Miss Piggy does a dog act with the supremely untalented Foo-Foo, while Rowlf plays the piano and heckles the act.
UK Spot: The Leprechaun Brothers, or the Swedish Chef, Beaker and Animal, mangle "Danny Boy".
Wally plays the bagpipes
"The Ying Tong Song": a gibberish lullaby
The astounding Dr. Salamander, hypnotist and newt, puts Pops in a trance (which isn't hard, because he's asleep anyway). Pops floats to the ceiling, but then doesn't hear Dr. Salamander's command to wake up. The hypnotist shrugs, "Never levitate the hard-of-hearing."
Annie Sue Pig & others sing "Pecos Bill" to Wally Boag, playing Pecos Bill, reprising his role from the Disneyland shows.
Notes
From the Muppet Show Fan Club newsletter, Vol. 2, No. 6 (1980): "Wally Boag recorded a Muppet Show recently and was much loved -- definitely a performer's performer and a frog's performer, too. He's done over 32,000 performances in the Golden Horseshoe Revue in Disneyland, and is consequently in the Guinness Book of World Records. Jim Henson saw him 15 or 20 years ago and has loved him ever since. It was a great joy to have him on the show."
Cast
Muppets:
Background Muppets:
Performers