Episode 515: Carol Burnett
Talk

3
26,368pages on
this wiki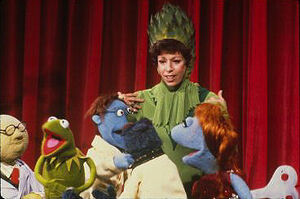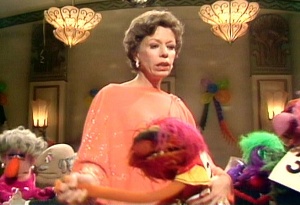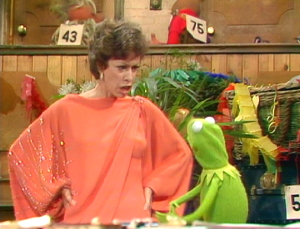 Kermit makes the mistake of letting Gonzo run a dance marathon during the show. Carol's songs are interrupted, and she objects to the marathon -- especially when Gonzo fixes her up with Animal as her dance partner. Carol threatens to leave in the middle of the show, but Kermit persuades her to stay by promising that she can perform her famous Lonely Asparagus sketch. But Gonzo says the marathon won't be over until all the contestants collapse, so she tires the dancers out by singing "I Was Made for Dancin'". Burnett plays both herself and the dance's janitor (a character from her own namesake show). Before the credits roll, Gonzo attempts to award a prize, but Dr. Bunsen Honeydew appears and says that he'll take the prize, for the winning dancers are robots he designed in Muppet Labs. Gonzo acknowledges this as cheating, so he announces that no prize will be given. He is then chased around by the other dancers.
Songs/Sketches
Notes
Statler and Waldorf do not perform their traditional last joke in this episode. Instead, Carol sneaks on stage and desperately attempts to perform her "Lonely Asparagus" act, only to be interrupted by the orchestra's finale, ending the show with her going, "Oh rats."
In Of Muppets and Men, Carol said: "When Kermit is up there, staring you in the face, you believe in him completely. I feel that Kermit has a soul. As for Animal, I had to dance with Animal and I had no difficulty in believing in him either because I was terrified of Animal!"
Cast
Muppets:
Background Muppets:
Performers