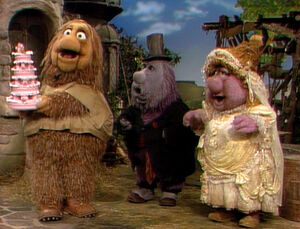 Pa Gorg and Ma Gorg have reached their 513th wedding anniversary, and according to Gorg tradition, they must be re-wed.
However, Junior Gorg loses the ring, and Gobo has to help him search for it all over the Rock, while the ring even briefly makes its way into Outer Space.
On its journey, the ring goes through the hands of lots of the show's main and secondary characters: Pa Gorg, Junior Gorg, Gobo Fraggle, Wembley Fraggle, Boober Fraggle, Mokey Fraggle, Red Fraggle, Uncle Traveling Matt, Sprocket, Doc, Wrench Doozer, Philo and Gunge, Marjory the Trash Heap, and Ma Gorg.
Trivia
Songs
Video releases
Ad blocker interference detected!
Wikia is a free-to-use site that makes money from advertising. We have a modified experience for viewers using ad blockers

Wikia is not accessible if you've made further modifications. Remove the custom ad blocker rule(s) and the page will load as expected.