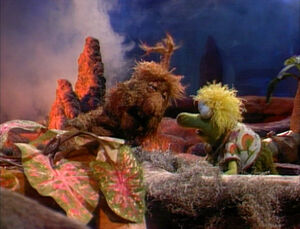 On his first solo overnight hike, Wembley meets Mudwell the Mudbunny, a wonderful friend with a short life span. When Mudwell dies, Wembley learns about life's greatest mystery.
Meanwhile, Doc and Sprocket find a lost parrot. When Doc finds where the parrot belongs to, Sprocket doesn't want the parrot to leave.
Internation Versions
UK Version: B.J. moves into the Lighthouse only to find Sprocket has been left behind. As Sprocket is still upset about P.K.'s departure, B.J. tries to make conversation with him.
Supporting cast
Songs
Video releases
Ad blocker interference detected!
Wikia is a free-to-use site that makes money from advertising. We have a modified experience for viewers using ad blockers

Wikia is not accessible if you've made further modifications. Remove the custom ad blocker rule(s) and the page will load as expected.