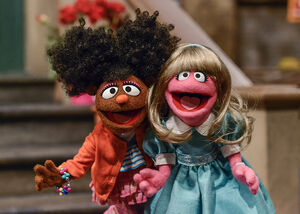 Prairie and her friend Gabrielle are practicing a dance, but their hair doesn't move the same way. Nina helps them realize that the dance is even more fun when they each let their hair do what it wants to do! Elmo and Big Bird join in and let their fur and feathers fly free.
Segments
Ad blocker interference detected!
Wikia is a free-to-use site that makes money from advertising. We have a modified experience for viewers using ad blockers

Wikia is not accessible if you've made further modifications. Remove the custom ad blocker rule(s) and the page will load as expected.