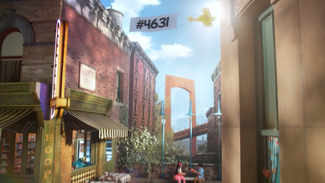 Picture
Segment
Description

COLD OPEN

Grover introduces today's theme of games while playing tackle football with some chickens.




SCENE

Abby and Elmo welcome the viewer as they play Hot Potato (using an real potato). As the games pass, Elmo continuously loses, much to his frustration. He suspects it's the potato's fault and has them play the game using an especially large one, then a tiny one, losing both times. Elmo tries to have Abby move closer and pass faster, still losing. Elmo gets more and more frustrated and Abby, feeling uncomfortable, leaves for lunch.




SCENE cont'd

Telly happens by and learns about Elmo's problem. He recalls when he wasn't good at hot potato, but by practicing, he has become a self-proclaimed "Hot Potato Expert." Elmo begs him to help his skills and Telly agrees. Elmo and Telly exercise and train in a Rocky-esque montage, complete with rock song ("Eye of the Potato").

SCENE cont'd

Telly has taught Elmo everything he knows, so he's ready to play again. Elmo calls Abby back and they play another game of hot potato and Elmo wins! As they keep playing, Elmo continues to win and brag about his victories. His arrogance drives both Abby and Telly away ("You know what Elmo? You may be good at this game, but you don't have the eye of the potato at all.").

SCENE cont'd

Leela appears, delivering laundry to Gordon and Susan, and learns of Elmo's victories and the problem with his friends. Leela, a big fan of the game, plays Elmo in the game and Elmo wins. Leela points out that winning isn't always everything and that being a good sport is more important. Elmo realizes he never considered his friends' feelings during the game.

SCENE cont'd

Elmo finds Abby and Telly and apologizes for the way he acted, vowing to be a good sport from now on. They forgive him and they all play a round of hot potato. Elmo loses, but shakes it off and enjoys the game.




Muppets

Elmo and the gang introduce the letter of the day, G, with a song and dance.
(First: Episode 4513)

Animation

"G is for Games": A group of guppies use a letter G to play schoolyard games.







Muppets

Cookie's Crumby Pictures presents The Hungry Games: Catching Fur (Rated G: For Games)
Cookie Monster plays "Cookie-ness Evereat," who's back to playing another round of the Hungry Games with his friends and Pita (the literal bread). They find some monkeys and in order to get rid of them, they need to solve a fruit pattern. They then find some tickling fog and need to solve another food pattern. Cookie-ness discovers the pattern is now about shapes and instead of putting Pita down for one, they use a clock. Cookie-ness is glad that she never has to play the games again, until Finicky tells him that they're making a third movie... (edited)
(First: Episode 4414)

Muppets

Count von Count and friends sing and stomp to find the number of the day - 3.
(First: Episode 4511)

Animation

Counting three neon balls, rings and pins
(First: Episode 4511)

Muppets

Elmo's World: Games (HD re-edit)
(First: Episode 3967)
Notes
"Elmo Didn't Mean To" is omitted from the street story in this airing, among other smaller edits.
Ad blocker interference detected!
Wikia is a free-to-use site that makes money from advertising. We have a modified experience for viewers using ad blockers

Wikia is not accessible if you've made further modifications. Remove the custom ad blocker rule(s) and the page will load as expected.