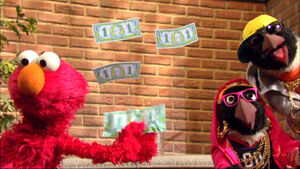 Elmo's got a dollar, and he wants a Stupendous Ball! It costs five dollars, so Luis explains that people usually work for money. He offers Elmo a job helping him fix the ice cream maker, and pays him one dollar.
Now it's time for Elmo to save money in a piggy bank. He earns another dollar helping Leela fold clothes, and another returning empty bottles to Hooper's Store. Then he gets a card from his nana with one dollar in it. Bingo! Stupendous Ball time!
Elmo's about to pay for his ball, but he runs into Cookie Monster, who has no money to buy cookies. Elmo gives him one of his dollars, so he's got to save a little longer. But wait, what's this? The Fantastic Ball costs only four dollars…exactly how much Elmo has!
Segments
Notes