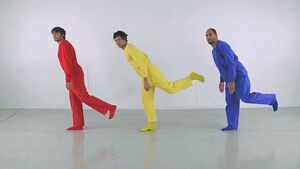 Sesame Workshop description
The new Furry Potter book is all the rage on Sesame Street! Gordon's about to read it to Telly, but can't find his glasses. He suggests Telly read the book himself, but Telly says it's too long and goes off to get help.
Telly brings back the three little kittens from the nursery rhyme, since they know all about losing stuff. No luck finding the glasses, though. So Telly brings back Little Bo Peep. Again, no luck. Finally, he runs off to get Schnozola, the glass-sniffing dog, but the glasses have disappeared.
Telly finally admits he wants to read the book with Gordon, who suggests Telly read the book to him one word at a time. Chris finds Gordon's glasses, but Telly likes reading to Gordon, so they keep doing just that.
Segments
Notes