Episode 4273
Talk

4
25,896pages on
this wiki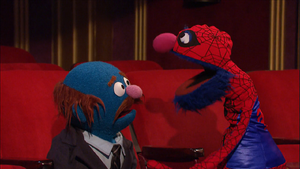 Princess in distress on Sesame Street! She can't meet her prince without kissing a frog, but the frog keeps hopping away. So Elmo and Abby try to help by learning more about frogs on Alan's computer.
They learn that frogs are amphibians and like to gather in groups, so they pretend to be croaking frogs. They also ask Alan to buzz like a fly. The frog comes back and the princess kisses him, but the frog is…still a frog.
Finally, poof! Abby turns the frog into a prince, but he really misses life as a frog. The princess feels badly for him, so she asks Abby to change him back. The princess is so amazed by frogs that she forgets about looking for her prince—and just enjoys being with her hoppy little friend.
Segments
Notes