Episode 421: Doug Henning
Talk

2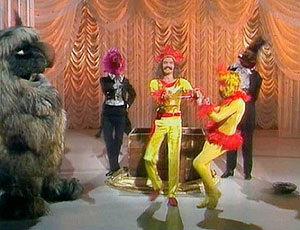 While practicing for a magic act sketch, Fozzie pulls out a bunch of rabbits from a hat who adopt him as his "daddy" while constantly ruining his own attempts at magic.
Songs/Sketches
In the Cold Opening, Doug shows Scooter the "Chink-a-Chink" trick with four seashells.
Miss Piggy sings "It's Magic," as Kermit appears and disappears.
Doug performs a magic trick, slicing up a huge monster and putting it back together in a different order. Unfortunately, the monster was enraged being mixed up, forcing Doug to disappear via running to escape.
Fozzie's Monologues: "Fozzie's Magic Act"
Robin the Frog sings "Leave Me Some Magic"
UK Spot: A farmer and Fozzie chase rabbits, singing "Run Rabbit Run"
Doug and Robin perform a trick with two tiny kerchiefs in the Guest Star's Dressing Room
Three Girls sing "There'll Be Some Changes Made"
Doug performs a 'switcheroo' magic trick with Doglion and the Bird Dancers
At the end of the episode, a bunny appears in Statler and Waldorf Box and uses the Porky Pig reference at the end of Looney Tunes, "*stuttering* That's all, Folks!" To this, Waldorf hits him on the head with a small gavel.
Cast
Muppets:
Performers