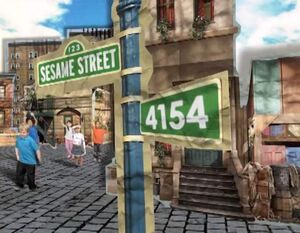 Picture
Segment
Description

COLD OPEN
"What's the Word on the Street?" -- amazing




SCENE
Australian TV personality Amazing Al spots Elmo singing his ABCs, and chooses him to be a contestant on "The Amazing Alphabet Race." The objective of the game is to find all the letters of the alphabet before a clucking chicken tap dances her way to a gong!




SCENE
cont'd
Elmo asks Luis if he's seen any letters. Luis points to the Sesame Street sign, where Elmo spots an A in the word "Sesame." He also spots a B in a BUS STOP sign, and a C on the "SCRAM" sign that Oscar made. Elmo's doing good so far, but he's got to hurry if he wants to "beat the cluck!"

SCENE
cont'd
On his way to Hooper's Store, Elmo bumps into a lost deliveryman from the ABCDEFGHIJKLMNOPQRSTUVWXYZ Delivery Company, whom he can't help out ...




SCENE
cont'd
Elmo gets to Hooper's and notices it's CLOSED. Luckily, the word CLOSED has a D and an E in it. Telly hops by on his pogo stick, and joins Elmo in the game. Soon, they find three F's on a FREE COFFEE sign, a G on Telly's pogo stick, and an H on the Hooper's Store sign.

SCENE
cont'd
The chicken is still getting closer to the gong, so Elmo and Telly better hurry ...







SCENE
cont'd
They pass Abby Cadabby reading her book, Jack and Jill - which is where they find the letters I, J, K and L. Just then, Telly realizes that they can find the rest of the letters in Abby's book - however, she gets a call from her mommy and suddenly has to go. Telly doesn't think they'll have another chance at finding the rest of the letters in one place, even when the lost deliveryman shows up again with the alphabet package ...







SCENE
cont'd
Gina comes out of her office with a sick cow who's lost her voice (and can only hold up a "MOO" sign). Telly and Elmo find an M in MOO, and then an N, O and P in the OPEN sign on Gina's door. Meanwhile, the chicken is taking a rest, which means they may have extra time to finish the race.







SCENE
cont'd
Telly asks to see Nashaya's water bottle, which has a Q in the word QUALITY. He then begs Luis to point him out to the rest of the letters they need, but then Elmo spots an R in the "HOURS" sign, an S in "SE HABLA ESPAÑOL," a T in "FIX IT SHOP" and a U in "SUBWAY." Now the chicken is almost at the gong, and they don't have much time to find the rest of the letters!







SCENE
cont'd
Just then, the deliveryman arrives, and they finally find the letters they need (V, W, X, Y, and Z) on the alphabet package he's carrying - right before the chicken hits the gong! They've won the game! As it turns out, the package is for Amazing Al, who gives it to Elmo, since it's his prize for winning the game. The prize, of course, is all the letters of the alphabet, which Elmo and Telly can use to make words as part of The Amazing Alphabet Race Home Game.

Animation
Animals and acrobats form letters in the Alphabet Circus.
(EKA: Episode 4074)

Celebrity
Rachael Ray thinks a tap-dancing tomato is amazing.

Song
Do the Veggie Dance: First and last verses of this dance are the veggie dance, while the broccoli, mushroom, cucumbers, and corn verses fill up the middle. The kids end the segment by exclaiming righteously "I LOVE VEGGIES!"
(First: Episode 4087)




Muppets
Big Bird's Video Postcards: Big Bird visits the Green Market in Union Square. He thinks the food comes out of packaging, but his friends show him how food is grown on their farm.
(EKA: Episode 3505)

Cartoon
Corn marching song
(First: Episode 4090)

Muppets
The Letter of the Day: M
Prairie Dawn and Cookie Monster present the letter M. "Mmm" is the sound Cookie Monster makes when eating a cookie, thereby encouraging him to eat the letter as well.
(First: Episode 4069)

Song
"You Got an M Song"
(First: Episode 4107)

Muppets
Law and Order: Special Letters Unit
The detectives of the Special Letters Unit search for a missing letter M.
(First: Episode 4109)

Film
A rhythm is made of breaking eggs, door slams, cans dropping, ice, and feet stepping.
(EKA: Episode 3682)

Cast
"Can't Say the Alphabet Enough" - In a 1960's throwback number, Gabi sings about how she loves her alphabet, backed up by Maria and Gina.

Film
Kids talk about how fun it is to dance.
(EKA: Episode 3963)




Film
The Number of the Day: A remake of the Number Song Series brings forth 4.
(First: Episode 4083)

Animation
Martin P. Robinson counts 4 flowers in an Austin Powers-type voiceover.
(First: Episode 4034)

Film
Wegman dogs: Four in a thea-tor (new graphics added)
(First: Episode 4010)




Muppets
At the NasCount races, Count Billy Bob Von Count Jr. has his greasemonkey crew work on his car, while he counts each passing car - which he would rather do than race. "Kyle Busch, eat your heart out!"

Film
A girl helps her father train for a wheelchair race.
(EKA: Episode 3302)

Muppets
Elmo's World: Fast and Slow
(First: Episode 4130)

Insert

The Adventures of Trash Gordon
Chapter 453
On the Planet Spaghetti, Trash fends off a meatball with a sneeze.
(First: Episode 4109)
Alterations
Picture
Segment
Description

Muppets
Journey To Ernie: Barnyard
Big Bird looks for Ernie at a barnyard by asking questions to the animals there.
This segment replaced the "Wish You Were Here" segment in the 2017 YouTube upload of the episode.
Ad blocker interference detected!
Wikia is a free-to-use site that makes money from advertising. We have a modified experience for viewers using ad blockers

Wikia is not accessible if you've made further modifications. Remove the custom ad blocker rule(s) and the page will load as expected.