Ad blocker interference detected!
Wikia is a free-to-use site that makes money from advertising. We have a modified experience for viewers using ad blockers

Wikia is not accessible if you've made further modifications. Remove the custom ad blocker rule(s) and the page will load as expected.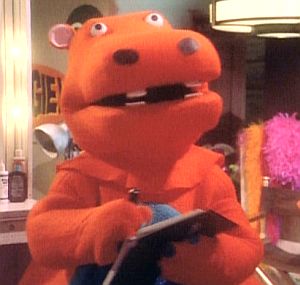 Baby Sinclair is mesmerized by the latest annoying children's idol, Georgie, an orange hippo. When Georgie comes to town, Baby demands to see him but Earl won't wait in the long line. Baby throws a tantrum, and in desperation, Earl dons a costume and imitates Georgie to stop the Baby's cries. Unfortunately, Earl is arrested for copyright infringement by Georgie's people and is thrown in jail. Earl escapes with the help Jean-Claude and Brigitte who are members of the Parents' Resistance who see Georgie for what he truly is: a money-grabbing, tax evading slimeball and Earl ultimately exposes him. When Roy finds himself on camera, he unexpectedly becomes the new kid's TV star.
Guest Stars
Notes
This episode is from a batch of seven episodes which did not air on ABC, and premiered in syndication on local stations. These episodes also aired on Disney Channel.
Georgie is a parody of the title character from Barney and Friends. Two previous episodes, "Terrible Twos" and "Into the Woods," featured another Barney parody, Blarney.
Roy asks Georgie to make his autograph out to Bob Young.
One of the fictional street signs seen on the Georgie set reads "Says Me St.". Another street sign reads "Georgie's Neighborhood".
Roy sings Brickhouse by the Commodores at the end of the episode.
This episode, along with "License to Parent," "Swamp Music," "Earl and Pearl," "Changing Nature," is one of only a few episodes to include original footage during the end credits, instead of a still.
Roy mentions that his middle name is "Danger" and his mother's maiden name.
Taped on September 14, 1993
Seen on TV
Video releases