Episode 413: Dizzy Gillespie
Talk

0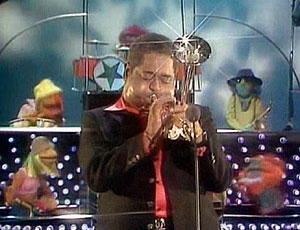 Statler is sick (of the show), so Waldorf brings his wife, Astoria, to the show. Meanwhile, Inspector LaBrea of the County Environmental Department arrives backstage to monitor the noise level of the show. LaBrea tells Kermit that to keep the noise down, he has to cut the trumpets for the show. Kermit tries to keep LaBrea busy while Dizzy performs.
Songs/Sketches
Notes
Although Astoria looks like Statler, there is no indication in the episode that the two are related. The idea that Astoria is Statler's twin sister (and therefore Statler and Waldorf are brothers-in-law) has been cited in a number of places on the internet. [1] For more internet "urban myths", see the Rumors section.
Cast
Muppets:
Background Muppets:
Performers
Sources
↑ Among others: funtrivia.com, timrollpickering, Guy Fawkes' blog.